From Soviet Moscow to Topeka, Kansas
---
While Dr. Irina Six has resided in the Midwest for the past twenty years, she was born and raised in Soviet Moscow in 1960. It was not until the year 2000 that Dr. Six moved to Topeka, Kansas at the age of forty. During her childhood and adolescence, she was a passionate member of Vladimir Lenin's Pioneer Organization, which was similar to the American Boy Scouts, but functioned on a mass level for all Soviet youth. Members were between the ages of nine and fifteen year old, entering the program in elementary school and graduating in high school. Dr. Six detailed how much of her early life was determined by her membership in the Pioneers, as she participated in all school and summer programs. At the age of fifteen, she even received a national award for her editorial work and management. After Dr. Six completed high school, she enrolled in an elite university in Moscow. In 1988, she received her doctorate in Russian Linguistics, and began teaching Russian at the prestigious Moscow Academy of Architecture. In 2000, she followed her heart to Kansas. As of 2020, Dr. Six is a lecturer and coordinator of the Russian-language program at the University of Kansas.
Dr. Six's life in Russia coincided with the Soviet leadership of Leonid Brezhnev (1964-1982), Yuri Andropov (1982-1984), Konstantin Chernenko (1984-1985), and Mikhail Gorbachev (1985-1991). As Dr. Six explained, she considers her life in Soviet and Post-Soviet Russia to have had three distinct phases, which correlate with the history of the final decades of the twentieth century: the 1970s, 1980s, and 1990s. Although Dr. Six described her Soviet years as the "happiest" and "most stable years" of her life, she did clarify that politically, there were constantly evolving viewpoints, especially concerning the Soviet regime's position on America.
From the time she was born until the fall of the Soviet Union, Dr. Six experienced the Cold War firsthand. As we commenced discussion on American and Soviet relations in the 1970s, she took a deep breath, warning me that she was not fond of this period politically. She observed that the Soviet regime controlled information given to Soviet citizens about America and Americans. Dr. Six went on to explain that she felt that American life was presented as "bad" and the Soviet regime only reported negative information on American events.
By the 1980s, however, Dr. Six felt that Soviet propaganda about America was no longer working, as there was "more context." This larger context was in part due to Mikhail Gorbachev's policies of perestroika (restructuring) and glastnost (openness), which loosened the state's ability to control news, culture, and information about the United States. Dr. Six described an accelerated curiosity about all things American, as public lectures and talks on "American life" became popular outings for her and fellow Muscovites.
While most Americans were optimistic about the collapse of the Soviet Union, which took place in 1991, Dr. Six deemed it the most devastating historical event in her life. With it came job instability and political uncertainty, the "most unstable years" of her life. In 2000, she made the difficult decision to move to America to be with her husband. She had to leave behind the successful career she rebuilt and her family in Moscow.
When she arrived in Topeka, her heart ached for Moscow, as she moved to a place that was completely different from the Russian capital. She felt very alone for the first five years. She expressed that most people she encountered did not ask her much about her life in Soviet Russia, and if they did, equated Russia with Germany. At most, she felt that people in the Midwest were interested to know what she or all Russians thought about Americans. She thought that people were perhaps being polite, but she largely felt like her peers did not know much about the Soviet Union or Russia, to the point that she once overheard a woman tell her coworkers that Russians eat dogs.
Speaking with Dr. Six provided insight into a typical Soviet Russian life during the Cold War. Although there was propaganda on both the American and Soviet sides, it was surprising to hear there were numerous public lectures and talks on American life in the Soviet Union. This fact is all the more interesting considering Dr. Six's observation that many people she encountered in the Midwest lacked knowledge about Soviet Russia, even though there was no official state control of information or government-run youth program in the United States. This fact suggests that educational disparities and divides between urban and rural regions shaped the way Cold War politics were experienced, as Dr. Six was raised and educated in Russia's metropolis and relocated to America's heartland. Cold War experiences were not always neatly divided along national lines; they were also shaped by the local context.
Devin Culley McFadden
University of Kansas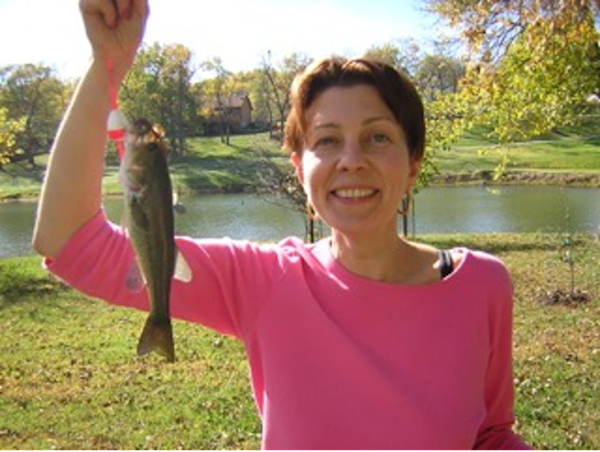 Image taken after Irina's arrival in Kansas. Photos courtesy of Irina Six.